GRP Roofing in Stafford
As a leading roofing contractor in Stafford, we are always looking to broaden our services and provide our clients with additional choice.
Widely knows as fibreglass roofing, GRP roofing in Stafford will last for at least 30 years and offering a considerably more durable and solid covering than other, more conventional roof coverings.
While supplying an incredibly effective protection from weathering and the elements, GRP fibre glass roofing is likewise effortless to repair and maintain, ensuring its longevity and supplying you with value for money.
HIGHLY EFFICIENT & QUALITY ASSURED
The more technical term for the product is Glass Reinforced Plastic ( GRP). Celebrated for its extraordinary durability, GRP materials today are used across many different industries. This strong, extremely versatile and entirely waterproof material makes it one of the best solutions when it comes to flat roofing in Stafford.
For flat roofing installations GRP is one of the better choices in recent times, if installed by skilled roofers a new roof surfaced with GRP will last for decades, and that's only 1 of many benefits associated with this sort of flat roof.
GRP has a wealth of benefits for any kind of roofs. Fibreglass roofs are highly adaptable, in creating wonderful balconies and walkways. They're also easy to expand or refurbish, and block unlawful access.
Properly installed, fibreglass roofs remain leak free for life, and the team here at Dryfix Installations Limited are extremely proud of our reputation for high quality materials and our expert craftsmanship. With over 25 years of experience of fitting, maintaining and repairing fibreglass roofs, it's no surprise that we're considered a premier roofing company in Stafford.
REVOLUTIONARY PRODUCT
Some of the first fibreglass roofs installed over 30 years ago still show no signs of wear and tear. This material is UV radiation resistant, becomes lighter over time and also has fire resistant properties. GRP is manufactured to be capable of any building movement through expansion and/or contraction.
Produced on site using polyester resin, glass fibre and rollers. GRP is one of the best materials available for flat roofing. This product is revolutionary and will change the course of roofing materials used to seal and protect rooftops across the UK.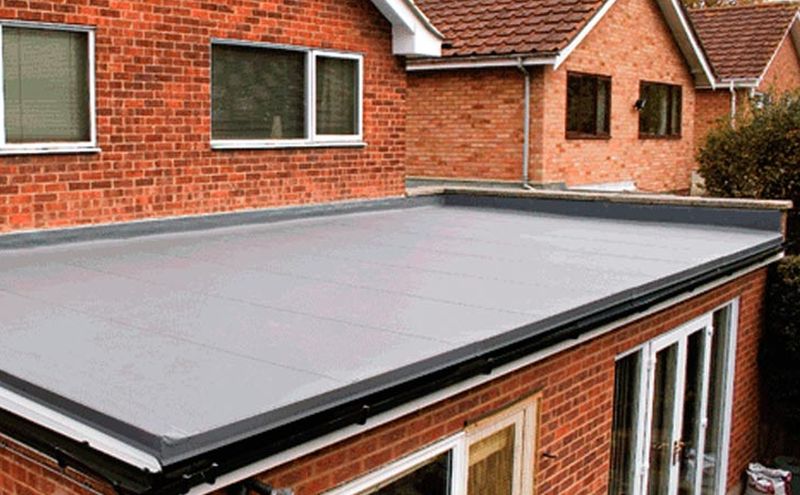 Contact Dryfix Installations Limited
If you're fed up of leaky roofs and want something more robust and secure, then GRP roofing in Stafford could be what you're looking for. Call us today for a free of charge, no obligation quotation at your home or see our other services here.